Bathroom Tiles For Personalised Decor
Choosing Bathroom Tiles for your home is a big decision. There are many ways to come up with ideas for the perfect tiles to complement your home style and personal likes, but in many cases finding exactly what you want can be tricky. That's where we come in, UniqueTiles delivers custom printed wall tiles for every area of your home. One of the most challenging parts of selecting the perfect bathroom tiles or kitchen tiles is trying to find what you want among the pre-designed selections provided by other companies. At UniqueTiles, the opposite is true, you tell us what you want or envision, and we bring that design to you printed on the highest quality, kiln-fired porcelain tiles with a high-quality finish for best durability.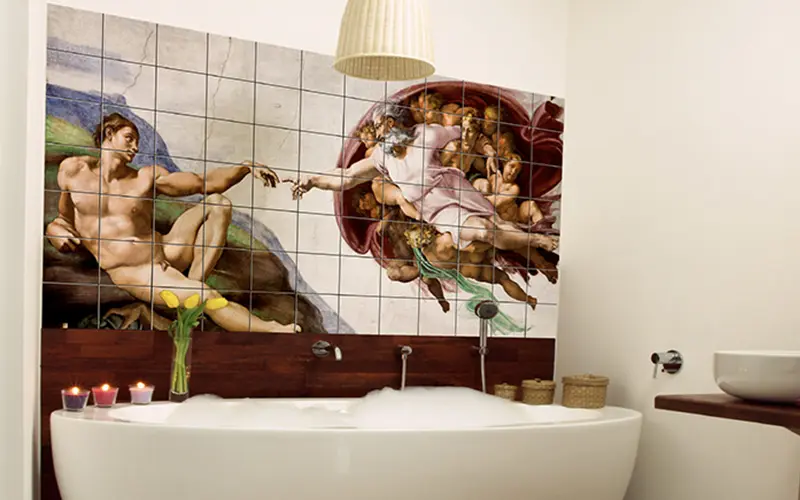 Now that the world is your oyster, you might be wondering where to start? One of the best placed to find inspirations and ideas for bathroom tiles and decor is in design magazines and books. Looking at bathrooms that have been professionally designed can help give you an idea of what you like or don't like, and help cement a colour scheme or theme. Some of the most loved bathroom colour schemes are tranquil nature-based themes, like sand and sea, woodlands or stark white.
With the limitless possibilities, we offer you can help you create the tranquil bathroom oasis of your dreams, regardless of your preferred style, colour or look. Look for artwork, prints, or photos for inspiration for your custom tiled mural piece.
If you love modern contemporary bathroom tiles, with clean lines and stark white fixtures, subway tiles might be the perfect choice for you. The clean lines give the feeling of symmetry and clean, modern design to your bathroom walls. Give your room even more personality with bathroom tiles, printed with your favourite art piece or pictures, and you can create a space as unique as you.
Traditional design is another well-loved bathroom design style, and stunning unique tile work is the backbone of this traditional bathroom look. Bring your vision to life with custom tiled murals, created specifically to suit your needs. Adding a custom print to your bathroom tiles will add character and can help bring the room together.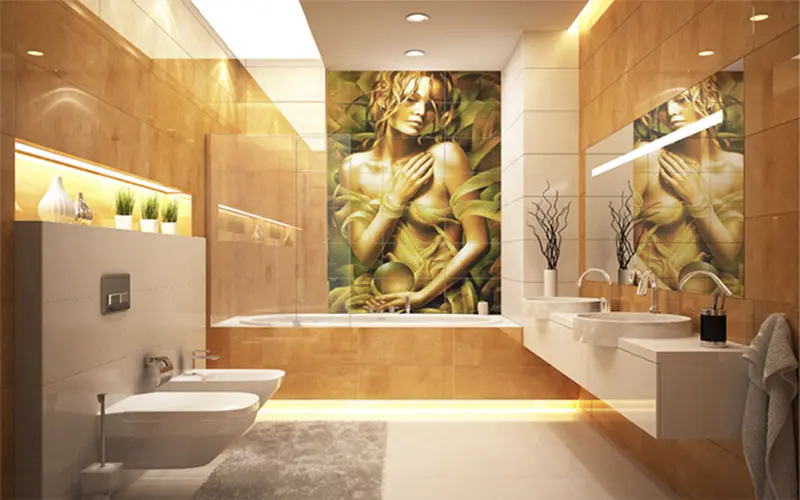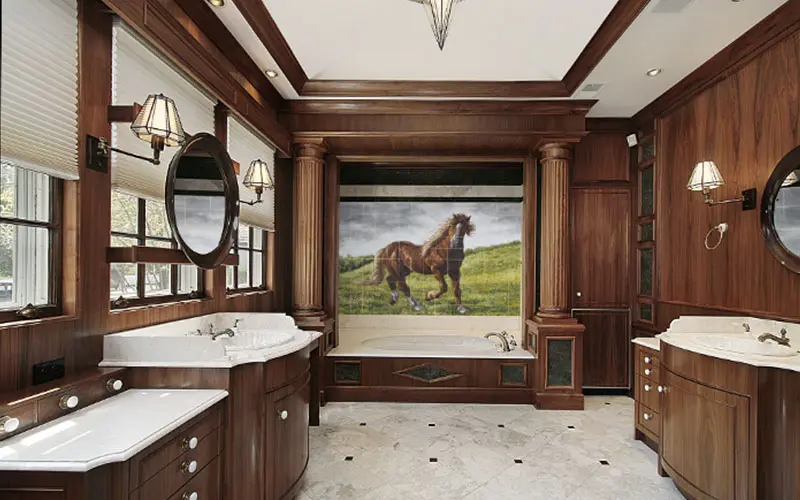 Homes with a rustic, country or an old world feel can benefit from custom tiles. Because finding tiles that have the old world look, with modern durability is difficult, UniqueTiles take care of that for you. With UniqueTiles you can create a beautiful antique mural tile piece, with monochromatic or muted tones and transport your room into another century, a more romantic time.
There is no limit to what you can create. If you want it, we can make it a reality, that is the beauty of custom printed tiles. You can have full control over every aspect of your design, from start to finish. No need to modify your colour scheme based on what tiles you can find, instead we modify the tiles to meet your needs.
Custom bathroom tiles are an excellent way to make your bathroom a unique and tranquil room, perfectly designed to your tastes. Ocean views, woodlands, lakefronts and modern art pieces can all add a unique and timeless feel to the room and make your bathroom a place to be proud of. Create the view you always wish you had, and bath is overlooking your favourite beach, lakefront, nature scene or art piece.
Sending in your choice of image is simple, simply email the image you like or send in the picture, and we will scan and return the original. All you have to do is decide on the picture you would like or several pictures, and we will do the rest, creating a beautiful custom tiled mural for your bathroom.
Decorating your bathroom can be fun, and at UniqueTiles we provide one more option to help you create the area of your dreams with custom printed murals for your bathroom, kitchen or other home areas. Simply select the picture or image you would like and let us do the rest and create a tiled work of art you can enjoy for decades to come.
Easy Tips On How To Tile A Bathroom
If you have recently looked in your bathroom and realised that your tile floor is looking dull and discoloured, you might want to consider replacing those tiles at some point in time. Even if you have prior experience with tiling, you might hesitate on this type of project because it does take a few days to complete. Other people may not know what to do and might feel more comfortable hiring a professional. Unfortunately, this type of project can cost a significant amount of money, not including the cost of the tiles and material to lay them out. It might be more cost-effective to learn how to tile a bathroom on your own, a skill that will save you a substantial sum of money on this type of project. Let's now look at five easy steps that you can follow to learn how to tile a bathroom in your spare time.
Measuring Your Bathroom And Tiles
The first thing that you will want to do is measure the dimensions of your bathroom. This includes measuring the square footage of the room, and also the size of the tiles. Once you have the measurements, you can calculate how much it will cost to purchase the tiles that you need. This can be relatively inexpensive, depending upon the material that you use. You can choose to use something that is inexpensive such as vinyl, or you can purchase ceramic or porcelain tiles to make your bathroom standout truly. Some people will even use custom tiles with graphics designed to their specifications to give their bathroom a very unique appearance.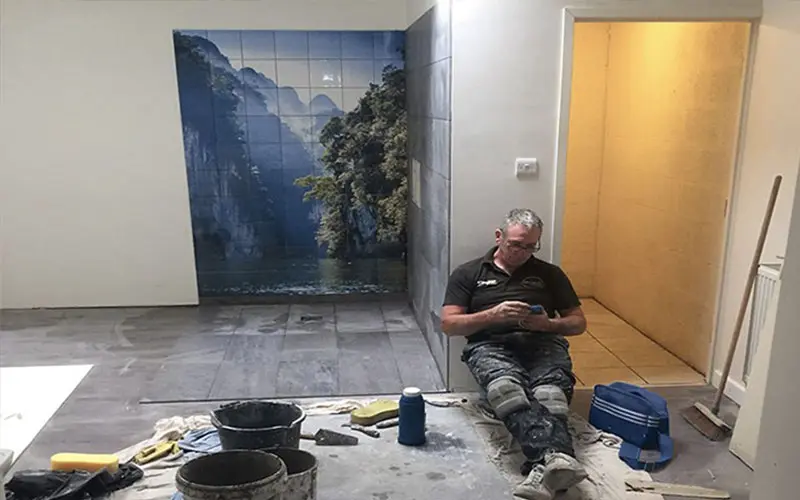 Purchase Your Tile And Related Products
A trip to your local home improvement store will allow you to get everything that you will need. This will include the tiles, mortar, grout and a sealant. You will also need to get an assortment of tools and supplies including tile spacers, a tile cutter or wet saw, measuring tape, a level, a square, a blue chalk line, a trowel, measuring tape, kneepads, and a couple of large buckets with a sponge. Once you have everything ready, it's time to tile your bathroom.