We capture the beautiful and eye-catching appeal of the outdoors in your space. Our wide range of floral tiles is ideal for both business and domestic spaces. Browse our unlimited range of gorgeous floral tiles designs. Coming in a wide range of sizes, we know they will complement your interior design plans.
The glory of plants inspires interior designers and homeowners. Patterned floral tiles are
massively
popular in the tile industry. The designs draw inspiration from the Victorian and Edwardian eras. Whether you want delicate patterns or bold prints, you can find them in florals.
Say goodbye to boring magnolia decor and hello to stunning tiled features. Your pad should be a reflection of you, so showcase your botanical love and create breathtaking individual style. Visitors are sure to comment on your fabulous decorating skills. At the end of a long day, you will love coming home to your designs.
Why Use Flower Ceramic Tiles?
Tile flooring featuring blooms enhances the look and feel of every room. You will also find our tiles that take inspiration from flowers affordable. This means you can complete your project on budget.
Of course, the good thing about tiled floors is, they are very easy to clean and long-lasting. Not only do they improve the decor of the home they are low maintenance and will look excellent. Blooming flower wall tiles are
aesthetically
pleasing and provide hypoallergenic flooring.

Flowery tiles create
bespoke splashbacks
that mimic works of art. They add to your decor, giving it a unique, distinctive appeal.
Blossoming designs are great for swimming, pools, bathrooms, sinks and the en-suite. The decoration of your room will breathe new life into your living space.
Printed and Hand Painted Floral Tiles
The tiles are
individually
painted and hand decorated. We have built a reputation for quality, and we want to ensure that continues. Porcelain or ceramic floral pattern tiles work for both floor and wall tiling. They are suitable for kitchen, bathrooms, including porches, conservatories, wet rooms, and swimming pools.
Our collection compares in size to standard dimensions used in DIY supply shops in the UK.
Create a decorative wall or splash blooming masterpieces among other plain tiles. Be careful that they all have the same ' x ' dimensions. Your new design space will attract compliments from all who see it.
Non-Flower Botanical Tile Designs
If you prefer a less flowery look, we have got a selection of fruit, berry, and herb-themed alternatives. We have a wide selection, including favourite kitchen garden herbs. Choose thyme, mint, chives, or bay. There are also wonderful garden fruits like apples, plums, and berries.
We also have more muted tiles available as an alternative to flower tiles. Some of the designs in this category include trees like oak, beech, and hazel. All these creations celebrate the timeless natural beauty of forests, rivers, and woodlands. Check our gallery
Flower Tiles That Mimic Nature In Your Home, All Year Round
Some people decide to bring the outside in because they don't have a garden. Others adore the garden so much they want to see glimpses of it in every room. Tiling creates a low-maintenance space.
You don't have to wait for spring to roll around. Your ceramic flower tiling is beautiful and offers the colours of nature all year round.
For a fresh new look in your holiday let or guest bathroom, nature offers great inspiration. Pick a bright design background for your country cottage and immerse yourself in mother earth. Breathe in the magnificence of the outdoors and embrace the hues of foliage and plant lif
Flowers and Vintage Style Tile Designs
Are you a nature lover, gardener or someone into vintage and retro designs?
When you come to redecorate your interior rooms with flora and fauna, you may also like fruits and animals. Our vintage flower tiles are classic and timeless. Using the traditional floral tiles bathroom designs or something contemporary, you can't go wrong. They make the perfect addition to any décor. 
Many of our designs have a chic authentic vintage look. This is a result of the antique illustration of flower detail we infuse in them. One good thing about our botanic murals is that they never go out of fashion. They have been in existence since their creation in ancient Egypt.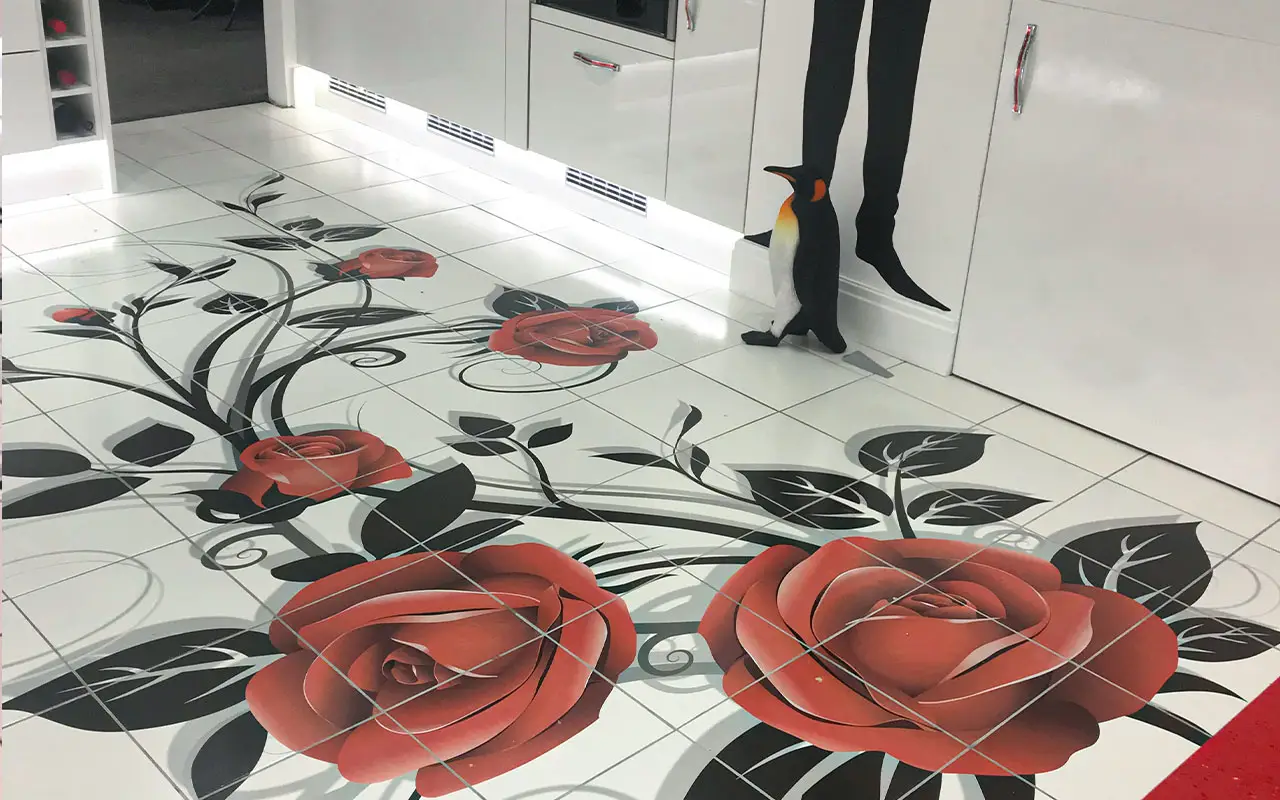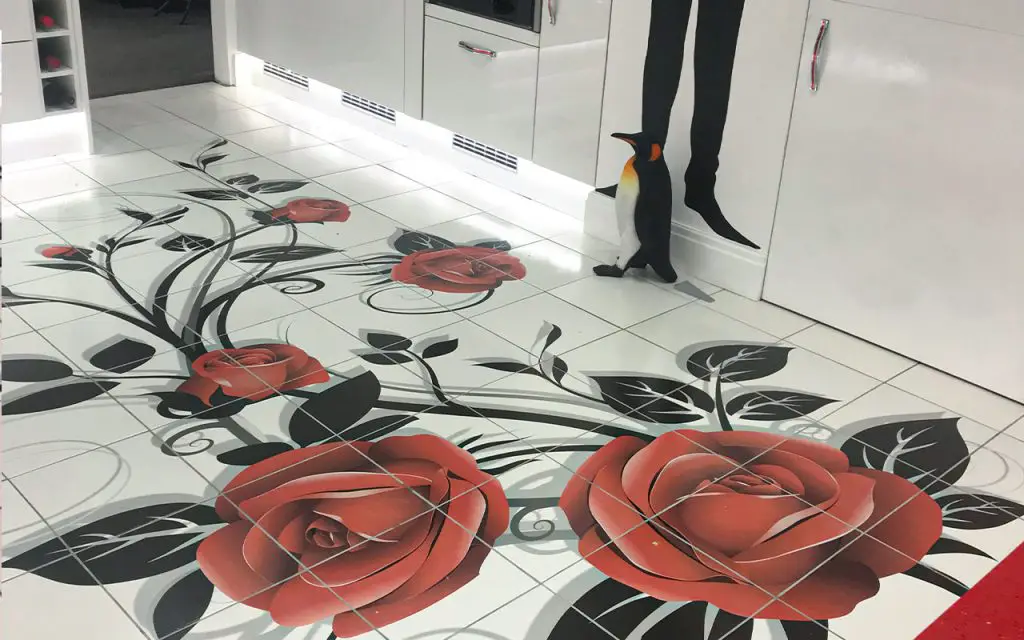 BRIEF HISTORY OF FLORAL TILES
Did you know that floor tiles have an extensive and exciting history?
Let's take a closer look at how they came to be.
Floral designs started in ancient Egypt around 2800-28 BC.
Sculptors worked together with florists to create artworks and sculptured designs. The pattern of flowers and other beautiful plant leaves inspired them. Such beautiful designs were a luxury and a symbol of wealth. Only those who were Royal or considered high class would use such designs in their decor.
This tradition continued with the ancient Greeks and Romans. Evidence of their enjoyment of botanical designs is evident in many artefacts. The Romans were well known for opulence, indulgence and excess. This led them to create lavish displays of roses and violets. When they discovered exotic new flowers like crocus, daffodils and oleander, they used them too.

This popular design trend has never gone away. In the 1900s, flora and fauna became the inspiration not only for vases but for wall art and ceramic tiles.
Thanks to technological advances, we can offer our unique printing process. Design stunning botany-inspired floor and wall tiles that add rare style to your room. They are not like any other item and give you the look and feel you have been dreaming of.
WHY BUY OUR FLORAL TILES?
We offer custom botanic unique designs for you to choose from, with options to suit every palette. Choose from red, pale pink, yellow, blue, orange and more. You are sure to find the perfect large floral tiles for your room. Be creative and daring; put your stamp on your interior design masterpiece.
One thing is sure; no one will have a room that is the same as yours! Instead of a boring plain tiled wall sample, why not add style and colour? Bring lasting beauty to your rooms, giving you durable pleasure and relaxation each day. For a long time to come!