Take Advantage Of Printed Tiles
Now you can have a high-resolution photograph or an intricate art design customised on the tile for your shower, bath, or outdoor pool area. You can make it happen anywhere you like, and it will be to the required scale, and it will be incredibly beautiful.

Digitally printed tiles are the new technology that makes it easy for you to accomplish this and enjoy the uniqueness of a remarkable design trend. What is so exciting, is the ability to enlarge and have the picture and the design adjusted to fit the area in which you wish it installed, although there may need to be some image editing to meet the specifications of your mural design.

All you need to do is send or upload a photo of what you would like by way of a picture or design on your tiles. This is then printed directly on the tiles, which you can then install yourself, by following the detailed directions provided. The tiles are numbered so they will always be positioned accurately.
If you would rather, you may select from a gallery of metre square murals and choose from the many photos and designs. Once you decide which photo or design suits you, it can then be printed to any size you wish.
For an example of a finished product that sets the style with digitally printed wall tiles, London's Greenfield High School sets the pace with its many colourful and exciting wall spaces using the concept. Other examples include Ted Baker of London, the Zürich City Council to name but a few.
There have been various methods of transferring pictures onto tiles in recent years, and then adjusting the result to meet varying sizes for the final product. Direct and indirect methods of application have been used in these processes, with the intention of creating consistency in the final production of equal proportion and colour reproduction.
The history of painted tiles goes back to the days even before the industrial revolution. Of course, in the early days, the painting was all hand done, with prices to match the intricate designs that were the result of such tedious work.

Painted tiles custom multicolour tiles
With the advent of computerisation, the ability to have a higher rate of output with seemingly matching quality, has given the industry quite a boost in design and flexibility. The ability to take a digital photo and transfer it to a ceramic surface is quite a leap forward in technology.
There is a saying in manufacturing that states, "make more from less," and that is exactly what has happened in the digital printing of tiles realm. New developments in the digital technology arena have made it possible to produce stunning finished products from literally any photograph or design.
There is also a distinction between a surface digital printing where the image is painted on the surface of the tile and a ceramic fired design where the image is a part of the glazed portion of the tile, which creates a much longer lasting effect which is also waterproof
And finally, the ability to stretch or adjust the design to meet the required size of the finished product is just simply, very unique. The size of the image can be set to fit a small bath area, or be expanded on a grand scale, such as a wall at a swimming pool or recreational area.
This new format for the production of wall tiles is sweeping the UK and other parts of the world. It opens the door for very stylish, and contemporary areas to be made available in homes, public areas, and businesses.
Digital printing bathroom tiles, custom swimming pool tiles
A building with these areas of unique, digitally printed wall tiles becomes an entirely new scene compared to what it was before the tiles were set into place. There is no doubt that people respond more positively to areas of a building or outdoor venue that has well-coordinated colour. It is possible to create incredible designs and areas of magnificent richness by the implementation of a well thought through plan with these tiles. The result is extremely astounding and positive.
Designer Homes 
A home can be a difficult place to decorate because each home has different sizes of rooms, layouts and cultural looks. It's a sad fact that many people end up with catalogue generic designs. Even designer homes rarely vary all that much. Most designers pick from similar colour palates, and the layout of the rooms tend to be fairly limited too. Wouldn't it be nice if you could come up with a truly unique and visually appealing look for your entire home?
While it's true that the fixtures and fittings in each room are dictated by necessity, there's no need for the window dressing, flooring and walls to look the same in every home. Designer homes will all have something in common, naturally. Yet that doesn't mean they all have to look copied and pasted.
Modern Homes
Sleek, modern homes are definitely in fashion at the moment. Granite countertops, lots of large mirrors, chrome taps and clean, sleek looking baths and sinks are the order of the day. It seems a shame to spoil that look by using simple plain, pastel coloured tiles. Instead, why not opt for something striking and impressive.
UniqueTiles can create just the atmosphere you're looking for, maybe with a landscape view, overlooking modern cities or Austrian snow capped mountains. Pick a scene that you love, and that both helps you relax and lets you feed on the positive energy. The water theme makes a lot of sense for the bathroom, but it isn't the only theme you can play with.
If you want to do something more unusual, try a mountain theme, or perhaps a scene from Alaska or Greenland, which also work perfectly for a master bedroom. The cool appearance and "back to nature" tone of those scenes suits the purpose of a room meant for relaxation and is clean and refreshing looking. Woodland scenes are another unusual but stunning design choice, perfect for kitchens, pantries, and bedrooms.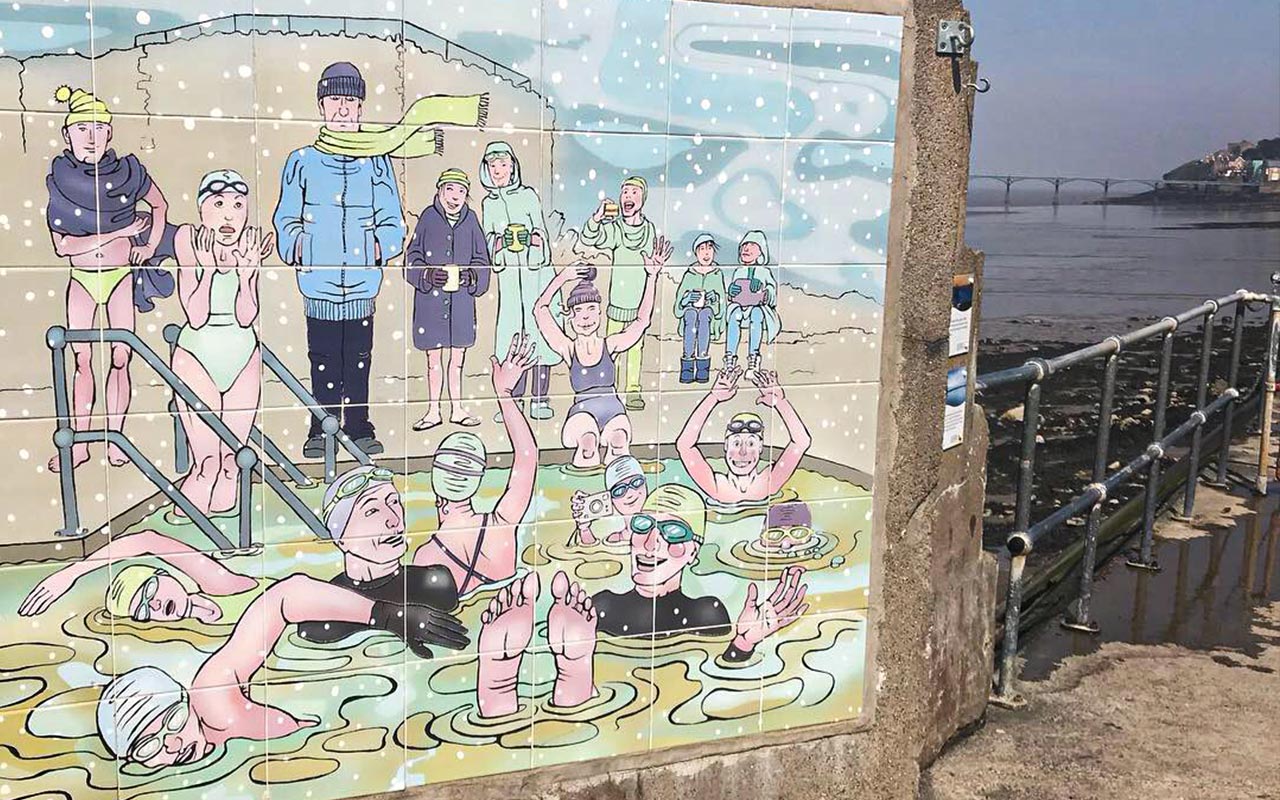 Trends in Period Design
Period homes tend to be more limited in what you can do with them since you want to keep the original fixtures and fittings as much as possible. You can accent that authentic, original look with some custom tiles, however. If you have a Victorian bathroom, but you don't like traditional Victorian tiles or wallpaper, why not pretend that there's a window by the wall, and put a Victorian street scene up there? Or, if you have an Edwardian room, break from tradition slightly and add an Art Deco touch. It may not be authentic, but it will look good, and it's a change that can be reversed, so if you ever decide that you prefer something closer to the original look you can simply change the tiles.
At UniqueTiles, we specialise in custom printed tiles for bathrooms and kitchens. If you can dream it, we can convert it to tile format so that you can have it in your bathroom. Custom printed tiles are the perfect finishing touch for designer bathrooms and can turn a "showroom" design into a unique and luxurious design that rounds out the rest of your home. If you have an idea for some wall tiles for your bathroom, please don't hesitate to get in touch with us. We will be happy to discuss your design with you and help you turn your ideas into reality. Once you have settled on the look, you want to achieve simply send us a picture and let us work our magic!
Bespoke Bathroom Printed Tiles
Bespoke bathroom tiles are the latest trend in new bathroom design and bathroom renovations. With unique digitally printed tiles, you can design a stunning, luxurious bathroom that not only adds value to your home but creates a beautiful space for you and your family.
Many of us view the bathroom in a practical way—it's a place where we take care of our hygiene and that's about it. A typical bathroom is usually decorated in a utilitarian fashion, making it a place where you go in and stay only as long as necessary. But what if your bathroom was designed in a more attractive manner, making it a place to relax and recoup after a busy day? UniqueTiles can help you transform your utilitarian bathroom into an oasis of calm and peace with beautiful bespoke tiles.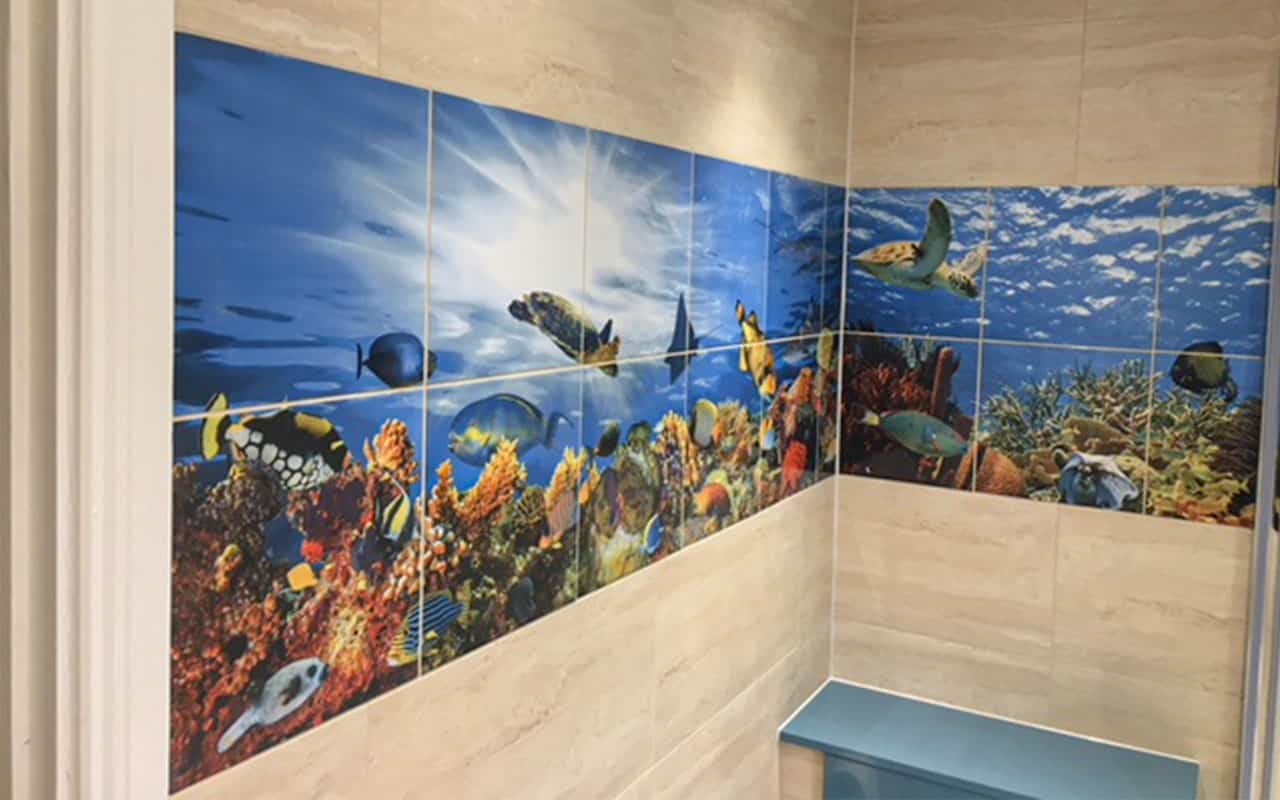 Key Points to Bathroom Design or Renovations
Designing a new bathroom or remodelling an older bathroom with custom printed tiles can be exciting. You may have many ideas running through your mind about the style and atmosphere you'd like to create. However, there are a few things you should keep in mind when doing a remodel or designing your bathroom space.
1). Think about your bathroom and consider the things you like and don't like about it. Make notes on these aspects.
2). Put together a scrapbook (paper or digital) with ideas you like, including photos and images of bathrooms and tile designs you find attractive. Also make a note of the colours, shades, patterns and motifs you prefer, along with any fittings (taps, shower heads, handles and doorknobs, etc.) you'd like.
3). Before making decisions on the design of your bathroom and new additions such as bespoke tiles, it's a good idea to make a full assessment of the bathroom's space, available light and any special needs you or your family may have (such as shower or bathtub handles, etc.).
4). Be sure to plan out space in your bathroom. Bathrooms are generally the smallest rooms in a home, making them a bit more complicated than decorating the kitchen or another room. It's important to know the bathroom's dimensions, understand how each space in your bathroom will be used, what type of lighting is available or necessary, etc.
5). Colours can set the mood or atmosphere in your bathroom. Some colours tend to be warm and exciting, while others soothe and relax. Consider what mood or atmosphere you'd like in your bathroom. Patterns or mosaics can be set on a neutral backdrop, or you can warm the space with lively, bright primary colours all around. Your imagination is the only limit to what you can create with unique bathroom tiles.
6). Don't hesitate to add colour to your bathroom with bespoke bathroom tiles. Unique printed tiles are a wonderful and affordable way to add colour to any bathroom. Be sure to keep in mind the 60/30/10 rule: 60% for the main colour (typically on the walls), 30% for a midrange colour (generally for floors and countertops), and 10% for accent colour (s) (often used in towels and accessories).
Printed bathroom tiles allow you to decorate any bathroom in your home, giving you the flexibility to create the design of your dreams. Your imagination is the only limit to what UniqueTiles can help you design.
Trends and Fashion
Patterned tiles, such as the swirly Mediterranean or Arabic motifs create an eye-catching tableau. Mosaics and murals with intricate designs, geometric shapes and bright colours add a splash of colour and interest to a bathroom with a neutral background. Geometric shapes are also popular now, with many people choosing honeycomb or hexagonal designs.
If you're not sure what you'd like, consider looking through interior design magazines for ideas on how to use bespoke bathroom tiles. Sites such as Instagram, Pinterest and others offer additional sources, with beautiful images, where you can gather bathroom decorating ideas. With custom printed tiles, you're not limited to the current trends. UniqueTiles give you the option to choose your colour preferences and even use your favourite photo, work of art or design on tiles for your home. At UniqueTiles, we understand you want to create a space of unique beauty for your home.
We use custom printed porcelain or ceramic tiles that are kiln fired with the design or image of your choice. Our bespoke all-purpose printed tiles can be used for wall decorations, the splashback area or even as a design focus on the shower wall. Our tiles are of the highest quality and come with a 25-year warranty, giving you lasting beauty for your investment.
Printing Tiles Service
Our designers will work with you to create the home of your dreams, built with tiles created uniquely for you. UniqueTiles provides you with free design consultations and a free visualisation service.
We take your image and room dimensions and ask you to specify where the design will be placed. From there, we use this information to create a visual of how your finished room will look. We'll then send you the presentation as an email attachment, and you'll get to see the finished product before it even begins. You can also request a sample tile to see the actual design and colours on your tiles. We'll work with you to bring your dream home to life in living colour with our printing tiles service.
Our tiles are easy to install—you can do it yourself or hire a professional tiler. We'll send you a grid image of how the tiles should be installed; each tile is numbered on the back, so all you have to do is find where the tile is located on the grid and install the tile in the corresponding position in your home.
Customer service representatives are happy to answer any questions you may have or resolve any concerns that may come throughout the entire process of ordering your bespoke bathroom tiles. Our goal is to bring your dream home from conception to reality. You'll have a beautifully luxurious, unique, space to rest and refresh.
Copyright © 2011-2023 UniqueTiles Ltd