Art tiles have been the definition of unique households for many centuries and have evolved from a product for aristocracy and royalty to an accessible form of interior design available to anyone in the world with any budget.
Art tiles differ from ceramic or delft tiles because of the lack of definition. Historically, different countries would have different patterns and paintings hand painted onto ceramic tiles to show their culture, religion or even wealth.
Ceramic wall tile art, however, have a broader definition meaning there is no one way they must be. Art tiles are not defined by factors such as culture or religion but rather by each individual and their unique idea of individuality and uniqueness.
There is actually no function in having any sort of art details painted on a ceramic tile; rather it is just an expression of oneself and the fact ceramic is so functional is just a bonus with tile décor.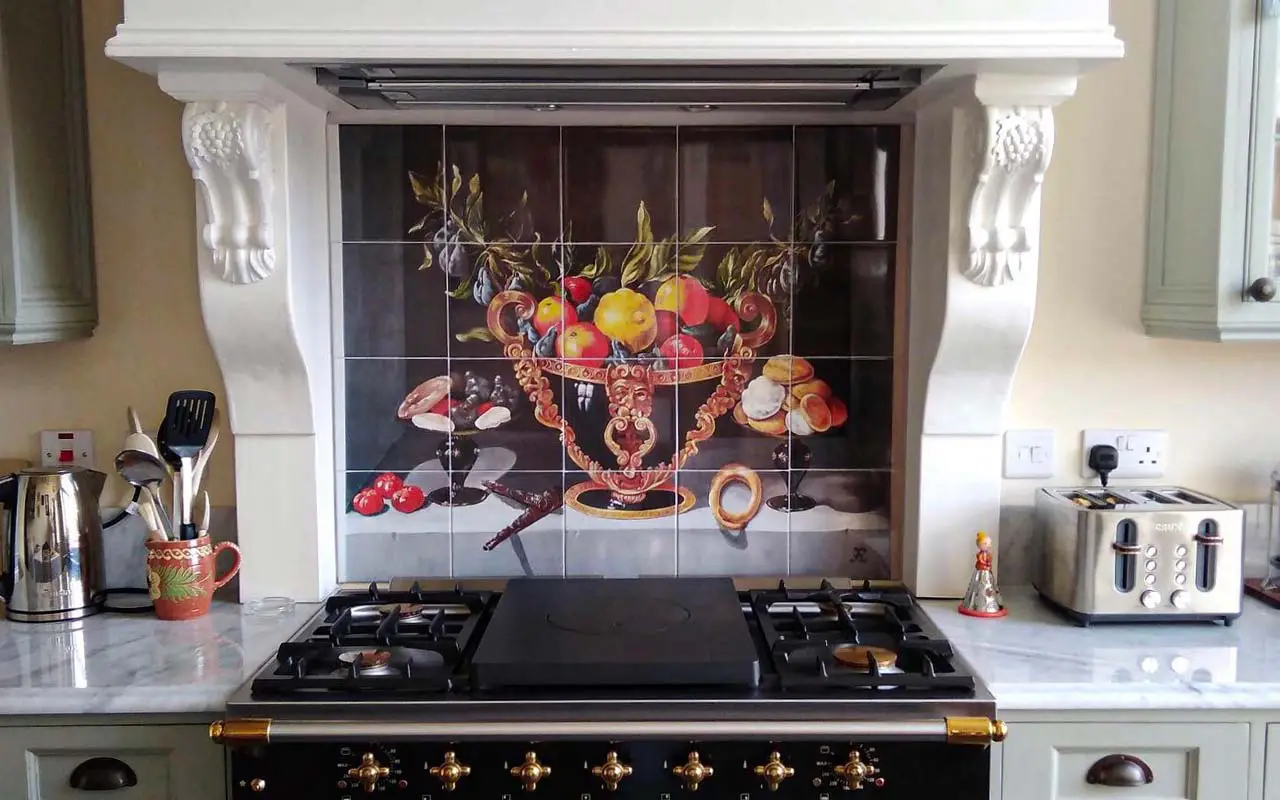 Art Deco designs have been used for a long time, mainly for decoration. The designs are included in architecture, pottery, jewellery, silverware and furniture and have also been adopted by ceramic tile makers and this is where it has had the most significant effect.
Most people usually associate the art deco style with the unique beauty and therefore use it to produce tiles that can beautify their homes.
The art deco style is a mixture of many movements such as Art Nouveau, Modernism, Cubism, Constructivism and Neoclassical. It is a combination of shape and colour, eye-catching geometry offset by swirls and curves.
Some people believe that the movement started during the international exposition of modern industrial and decorative arts shows in Paris in 1925, while others think it began around 1910.
However, the more significant interest is that some art historians argue that King Tutan Khamun's tomb displays art deco designs.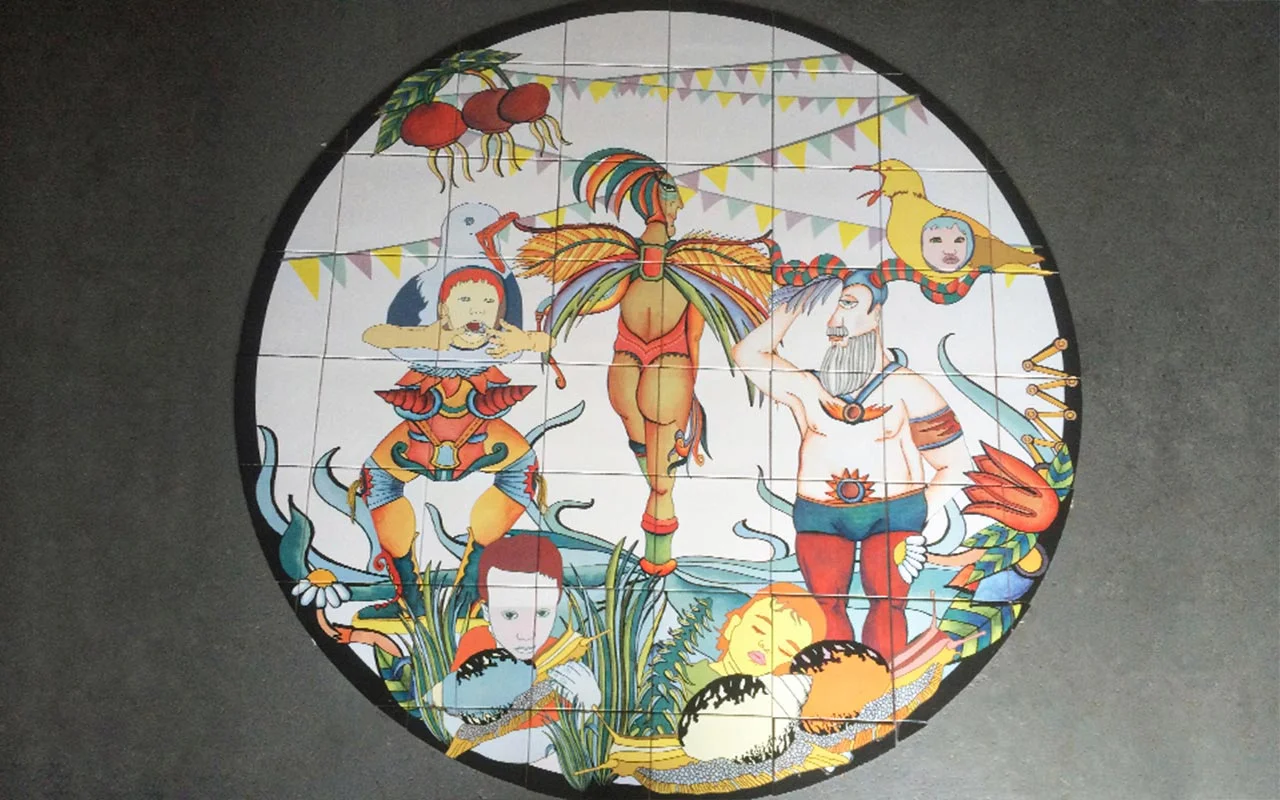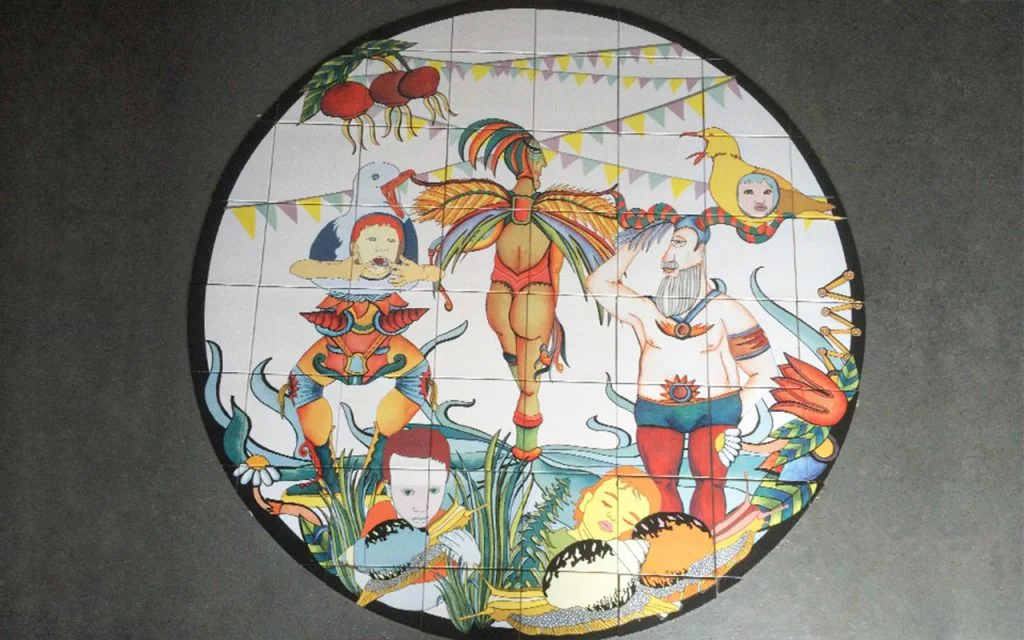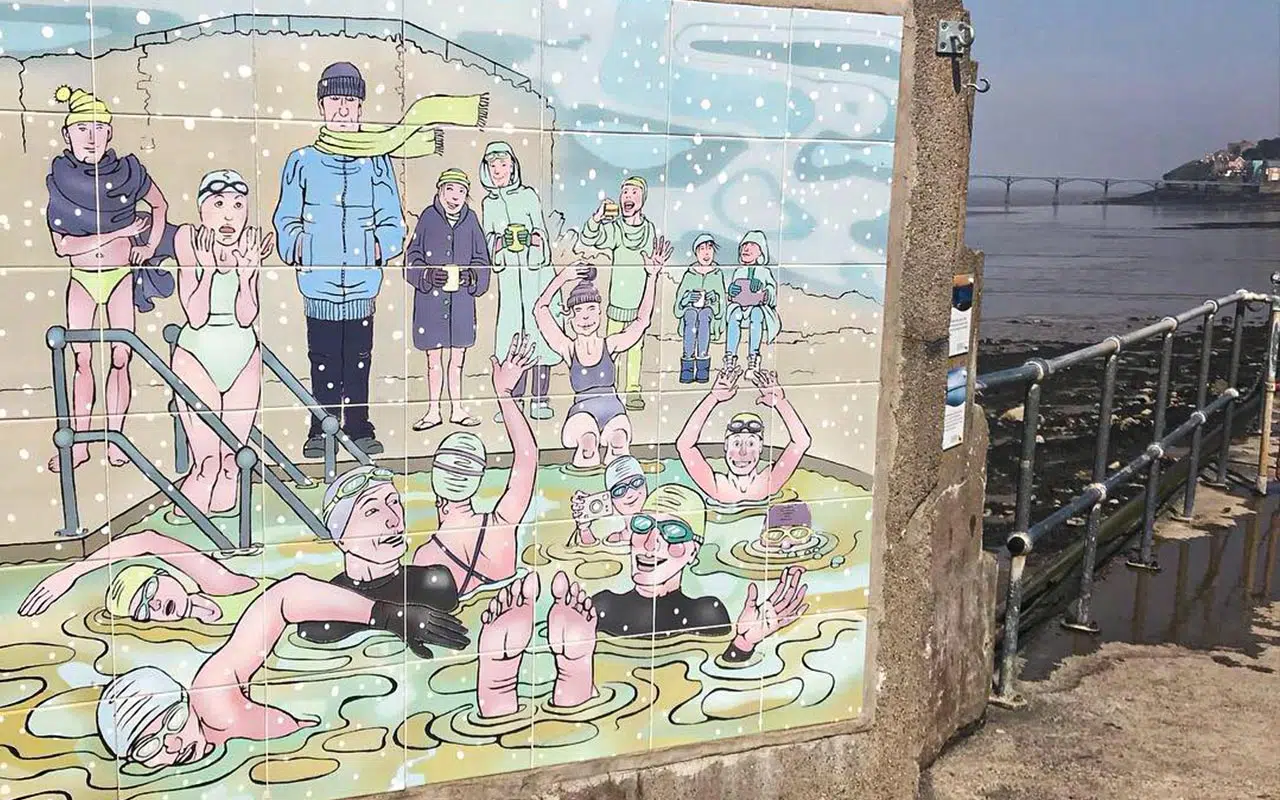 Influence on Art Tile Interior and Exterior Design
Art Deco designs have been used for a long time, mainly for decoration. The designs are included in architecture, pottery, jewellery, silverware and furniture and have also been adopted by ceramic tile makers and this is where it has had the most significant effect.
Most people usually associate the art deco style with the unique beauty and therefore use it to produce tiles that can beautify their homes.
The steps in creating Tile Art home include the following:
Colours 
A small quantity of colour is used along with Art on tiles designs and geometric shapes. The major schemes used include red with black, green with black, white with black and sometimes just black.
There is an emphasis on chrome and gold, while soft grey and pastel blues produce a moderate touch.
Flooring 
Marble or ceramic floors in black or white is a typical examples of Art Deco Floors. The chess board or black and white tiles are also common on floors from this era.
Rugs are used in neutral or deep colours of black, grey and brown designs and patterns. Especially flowers also show tile art designs on the floor of the house. These art deco designs can also be used on the walls of the house to make it attractive.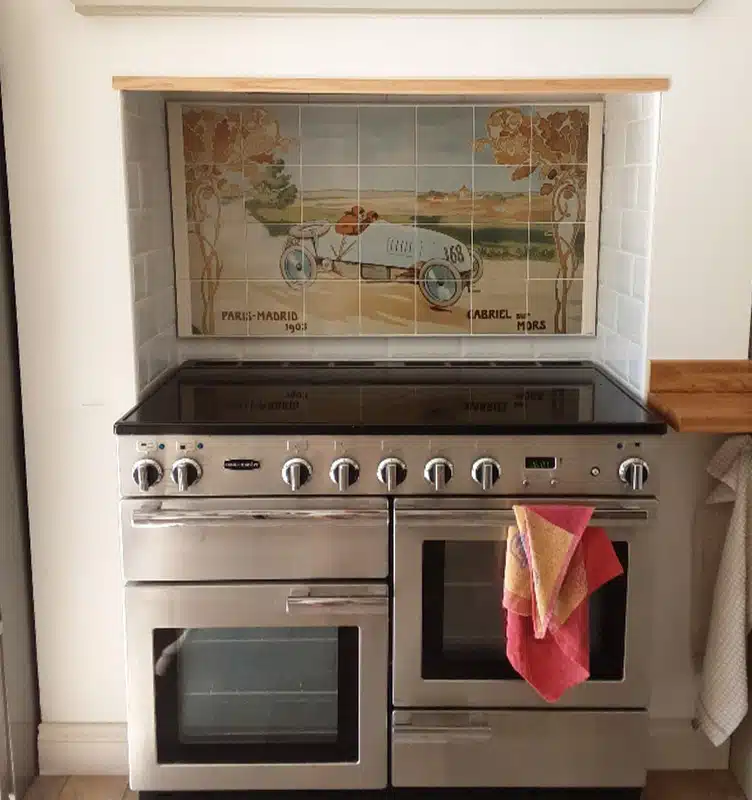 Dare to Be Different with the Pop Art Tiles Collection
If you want to create something unique for your home, there are different types of designs of Pop Art tile which will get noticed and get people talking. Give the old world designs a modern twist with a range of tile collections comprising field tiles, half tiles, and two stylish mouldings.
Each collection of tiles is available in ten bright gloss palettes of colours and is perfect for mixing and matching as well as building bold effects. The single blocks of colour can be combined with the pop art tiles to create a robust modern style.
Field Tiles Collection
The field tiles collection is glossy and smooth tiles of various sizes is perfect for the creation of stunning effects. It is crucial to use contrasting colours in large blocks on whole walls or to create custom patterns or shapes.
There is no reason to stick to a boring neutral colour when you have the entire colour of Pop Art to choose from.
Crocodile Collection
You can also adopt the latest collection of brightly coloured crocodile-texture effects for handbags and shoes to the wall; the crocodile skin pattern is created using a reactive glaze process that begs to be touched.
This collection would bring a high-street fashion and chic touch to a home or business.
Funkadelic Collection
The beauty of this kind of collection is that with the circle in relief, the pattern can be repeated across an expanse of walls. The broad range of available colours has been in use for a long time. Particularly evocative of the 70s vibe are Tequila tango colours and the Psychedelic.
Groovy Stripe Collection
This type of stripe looks fab and is used both horizontally and vertically, adding an extra dimension to blocks of Pop Art colour. This versatile collection would also fit perfectly into any kind of minimalistic or modern décor.
Reptile Collection
Just like other kinds of Pop Art designs, the reptile finds itself very much at home in a funky bar or café. The textured surface of this range looks attractive in a block of contrasting colour, thereby creating a focal point on your kitchen, bathroom or exterior walls.
Vertex Collection
Regardless of your point of view, the pattern within the Vertex is an optical illusion, which draws the eye into its depth and also adds unique interest to the design which is the room.
You can also try and create a chequer-board effect with contrasting white and black tiles. This will look attractive, and other designs which can be incorporated include random borders or patterns.
These Pop Art Tiles can be utilized perfectly in both residential as well as commercial settings, from kitchens and bathrooms to cafes and bars. However, it is crucial to vary these designs, and you can also contact your tile manufacturer to see different kinds ceramic wall art tiles which can be used to beautify your surroundings.
Grace Your Bathroom with Elegant Ceramic Wall Art Tiles
We have encountered several bathrooms with different tile designs to create a specific theme for the home. We have seen ceramic wall art tiles in Art Deco and Victorian designs for those vintage-type bathrooms or even modern styles for a more futuristic flavour.
However, white tiles are the most basic of all bathroom designs, and with a little planning, the colour can be used for any bathroom theme.
Maintain Its Beauty
The major setback to using white tiles is the visibility of stains; this is very visible in the case of coloured stains such as chocolates, juice or when dust dries up on the tile surface. It is crucial to clean these tiles once you come across the stains because the longer it stays; the harder it is to clean.
Steps in Choosing the Perfect Bathroom Tile
If you are searching for a way to bring a modern look into your bathroom, then you need to incorporate tiles in the area because of the beauty and the water splashes are very common.
Whether you want to create an ultra-modern space or embrace the character of your home with a traditional feel, you can find the tiles that will be perfect for your needs.
To ensure you get the most appropriate bathroom look, it is crucial to select the right bathroom tiles; the following tips are available so you can find and order the appropriate tiles to make your bathroom stand out.
Floor Tiles
Regardless of whether you choose sophisticated sandstone or pretty porcelain, the layout of your bathroom floor can either make or break the whole design. When selecting the colour, choose one that is timeless and durable because there are some colours that will look dated after some time.
If you aim to resell the property, it is advisable to choose a neutral colour for your floor tiles and avoid adding patterns so the buyer will be able to redesign it according to his or her taste.
Create Character
A bathroom which has character is a great addition if you live in a period home. Printed ceramic tiles are perfect for an inspired art deco water closet, while slate will suit a country cottage or farmhouse.
You can also choose pink porcelain floor tiles and dress up the walls with some pretty floral patterns. To get a genuine feeling, you can choose a dark and leafy colour for tiles adorning Victorian bathrooms. However, it is crucial to keep your tiling to a minimum, for instance, around the bath or shower and paint the other part of the room to create a lighter tone.
Modern Masterpiece
You can choose two different colours whenever you want to design your bathroom; you can create a luxury space that won't be out of place in a boutique hotel, complete with tile murals
If you do not want to use only white, add a pop of colour with bright towels and window dressings.  You can also define the sink and shower space with different coloured tiles if you plan a wet room or create a border around each area with thin tiles with contrasting colours.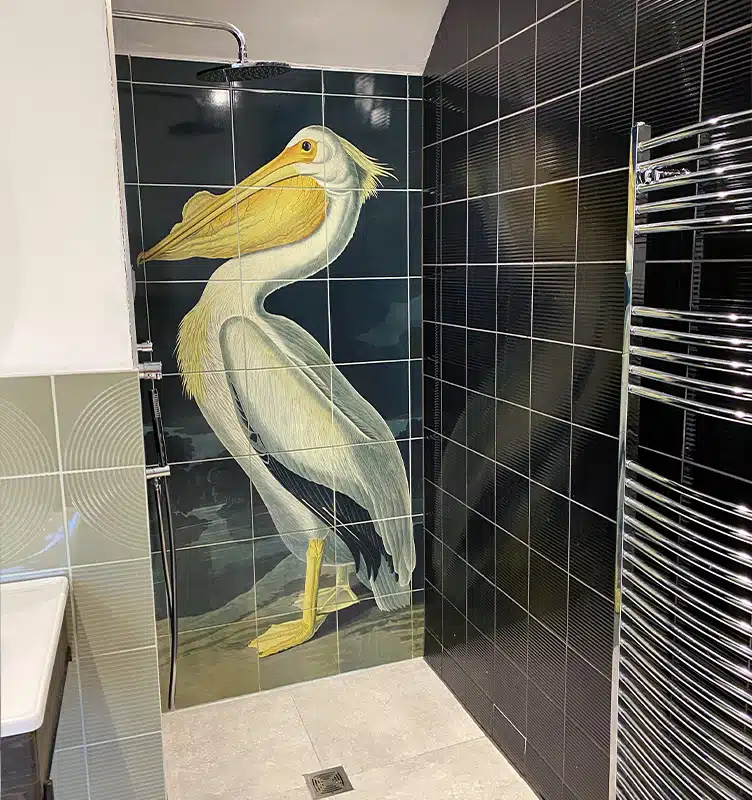 Final Thoughts on Tiles Art
So, the question remains; where do you discover unique and fun art tiles that guarantee quality and long-lasting effects? Here at Unique Tiles of course!
Each of the designs you see on every page of our website is handpicked for their quality, creative designs, and affordability for our customers. Decorating your home with something so permanent as ceramic wall art tiles is a decision you don't get to make twice, and we are dedicated to making sure you are 100% happy with your choice at the right price.
If you cannot find the exact product you're looking for in our stock or have any queries regarding particular tile design photos featured on our website, please feel free to contact us without any hesitation.
We take pride in servicing our community, and we know everything there is to know about every ceramic wall art tiles we work with and sell.