Traditional designs of Delft tiles fit in cottages or older terraced houses in the UK. You might spot the odd modern apartments with these beautiful tiles. They are popular in their kitchens and bathrooms. The versatile nature of Dutch tiles makes them a timeless piece. They can work around any trends that come and go. Blue and white delft tiles are usually view as a mix and match. Teamed with other types of tiles like Moroccan designs or contemporary geometric designs
Deft tiles make a good choice in many rooms. Kitchen splashbacks, around fireplaces and in shower cabins or the bathroom in general. Sometimes a continuous design spreads across many tiles. Other times individual tiles with a similar theme. In many European kitchens, you may see old cookers. The surrounding area features Delft scenes. Often depicting herbs used in household cuisine.
Fireplaces are also a great area to adorn with Delft tiles. When ceramic tiles were first introduced, any design, including Delft,
was used
. It
was set
 at the back of the fireplace to protect the brick of the house. These days, there isn't any need for that protection. Fireplaces 
are installed
in a way where that won't cause damage to the structure of the house. So instead, Delft tiles can
be used
more
artistically
and on the outside of the fireplace.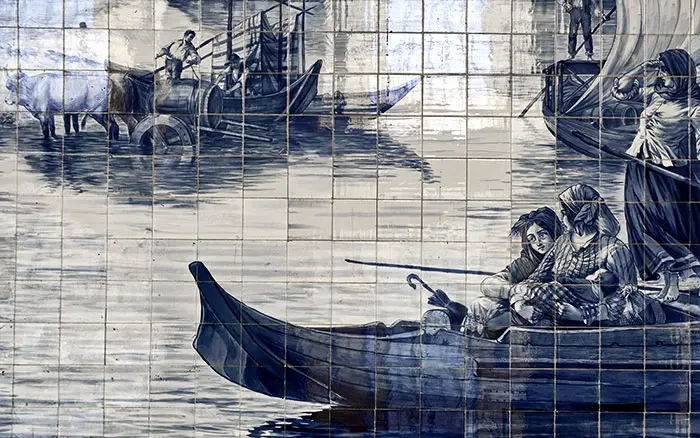 Detailed Delft designs placed next to one another can look a bit cluttered. Especially in a minimalistic home. So, go for a simpler geometric design that will complement a minimalistic household. You still get a wonderful traditional hand painted design. Modern techniques of glazing ceramic and materials are used in making Delft tiles. This means you don't have to worry about the longevity of your tiles, as they are guaranteed to last you for many years.
Here at Unique Tiles, we know all there is to know about Delft tiles. We pride ourselves on stocking a very wide range of Delft tiles for sale to suit your tastes and budget. One thing we don't ever compromise on is quality. From a design that has been mass-produced in large quantities to a hand-made one-off. We guarantee the finish will be equally beautiful on both. Delft tiles date back to the flourishing tile industry of the Dutch.
In the sixteenth and seventeenth when Italian artisans settled in Antwerp. They introduced new and exciting handmade techniques for producing Delft tiles. As the wealth of the Dutch grew, so did the demand for high-quality tiles project. They needed to withstand heat and protect homes from dampness.
The Italians had new techniques that made tiles very long-lasting. They preyed on this newfound economy. and started to mass-produce the tiles. The unique, hand made design proved very popular with the wealthy. It also resonated with the poor.
Ever ever since then, Delft tiles have been a staple design in the tile industry. Fast forward to the 21st Century, traditional Delft tiles are 
just
as popular today. If not more so than the Dutch hundreds of years ago, and are now even more available. English homes love Delft tile designs.
Techniques and mass production have improved too. Original delft style tiles have allow become affordable and cheap for manufacturers to make. Quality has improved, too, with the development of better technology to print.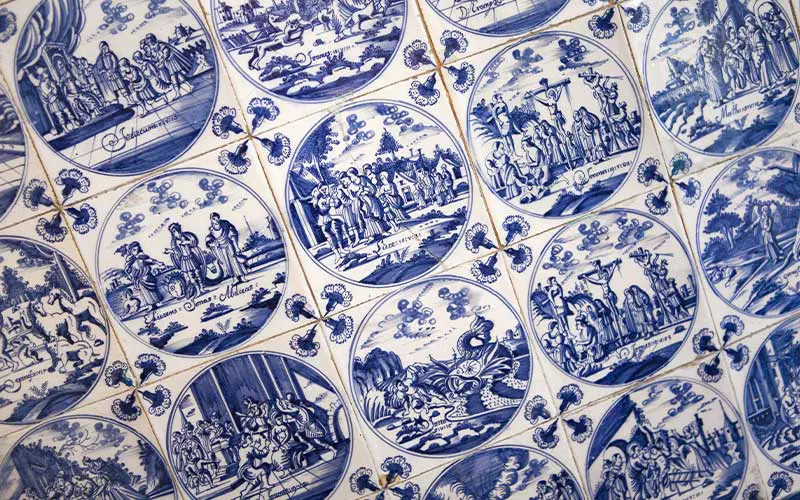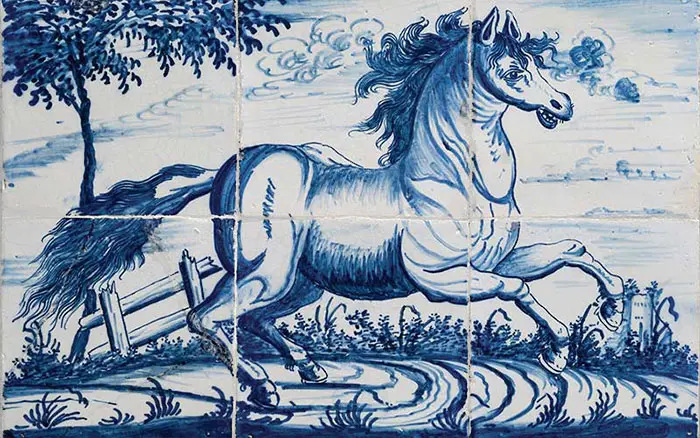 The main characteristics of Blue Antique Dutch Tiles are instantly recognisable. Their complicated and highly detailed blue designs on a white base are iconic. This style was adopted as an imitation of Chinese porcelain. It was imported into Europe by ship around the sixteenth and seventeenth-century respectively. When the boat imports stopped, blue delft tiles were the cheap and local alternative.
Delft tiles were initially only affordable to more prestigious and wealthy households. They were always hand painted delft tiles by tradesmen specialist. There are endless possibilities of combination hand-painted and printed tiles. Despite this, there were many reoccurring themes in the design of them.
Traditionally blue and white delft tiles would depict local landscapes, local wildlife and flowers and herbs. Landscape designs usually depicted the local windmills or hills. Cottages, floral and wildlife selection designs were also inspired by local findings.
As reproduction Dutch Tiles became more popular, they became cheaper to buy. Those trends have stayed and can
typically
be seen
in more traditional households. Today, Delft tiles can
be found
as cheaper reproductions that use modern technology. This gives fantastic quality without the hefty price tag. Hand-crafted per the request of the customer, or you could also get your hands on custom antique delft tiles uk
Classic reclaimed delft tiles can be difficult to come by, but the older and custom looking they are, the bigger the price tag. They are a wonderful sentiment of history. For the avid collector, delftware is a timeless piece to own.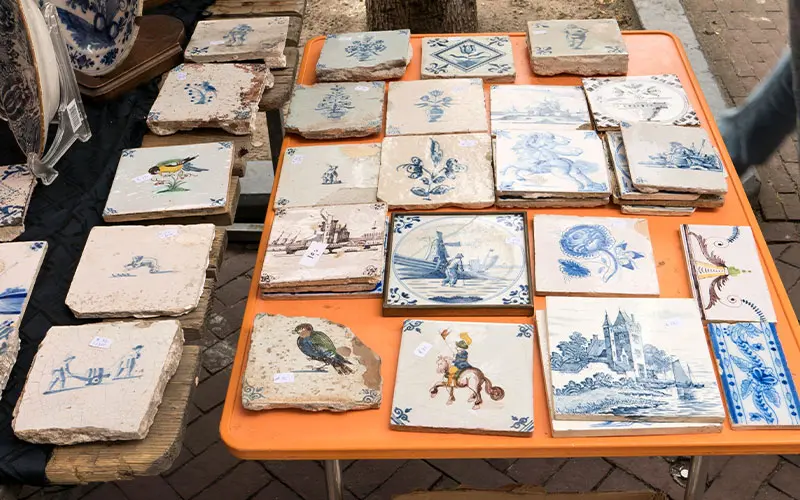 Traditional
 Delft tiles make a wonderful collection piece. They can also make good money in sales. As long as the tile is in good condition, as time goes on, the price tag goes up. The price of an antique delft tile mural depends on the age of the tiles. Prices are set by looking at the clay used and the actual imagery and company logo.
Most company would paint their logos on their tiles. Different periods throughout history used different clays to create blue tiles. This led to building a vivid timeline of years gone by. Vintage Dutch tiles are actually quite an important part of history. They can help us understand what human migration and the tile trade did for the European economy. It also changed relations between countries.
Our delft style tiles uk will differ in price based on design and the time it has taken to produce the tiles. Mass-produced tiles with set designs are cheaper because they are printed. They take a fraction of the time that hand-painted tiles take to make. The tiles are glazed and fired at high temperatures in a kiln. Sometimes several times, giving them a high-quality finish. It also protects the blue designs from fading.
These are 
individually
hand-painted and not reproduced. These tiles in themselves will range in price. For example, if your chosen design was straightforward. By intricate Delft tiles, we mean realistic images of farms, animals and flora.
Hundreds of years ago, Dutch tiles depicted local landscapes. This included farmhouses, barns, mountains and various wildlife and floral designs. This was reflective of the culture and local traditions. If any of these designs sound like your type of thing, you can be certain that we will have them.
We can also cater to any taste. We specialise in the reproduction of 16th and 17th Century hand-crafted by artist.

Curious about buying genuine antique Delft tiles?
Our expert team of tile enthusiasts will point you in the right direction.
We've worked with Delft tiles long enough to pass on all the information you need. From recognising the quality of Delft tiles to making sure you are paying the right price.
We can help with tiles that need to
be made
to order for a
truly
unique look.
Why not give us a call, and our team can help?
Please just
tell them what you would like to achieve and where it is going in your home when you contact us.
We are experts at the practical side of putting delft tiles in your home, and we do have a keen eye for design. Delft style tiles uk are some of the most unique and beautiful designs in the interior design world. It can be tricky to try and place them into an apartment or modern penthouse.
We have a no-obligation service which means you can get the information that you need. We will never pester people to buy our tiles. We love what we do and thrive on good customer service. We want you to
be satisfied
with the products we offer and our service.