Photo tiles provide an easy and affordable way to craft a customised bathroom or kitchen for your home.
Photo tiles can be used for either new-build home or renovation of older kitchens or bathroom. By combining your personality and style preferences with the decorative features of photo tiles, your kitchen or bathroom will become a beautiful and timeless room in your home. UniqueTiles brings the photo tiles of your dreams to life with customised tiles designed by you and crafted by our designers and artisans.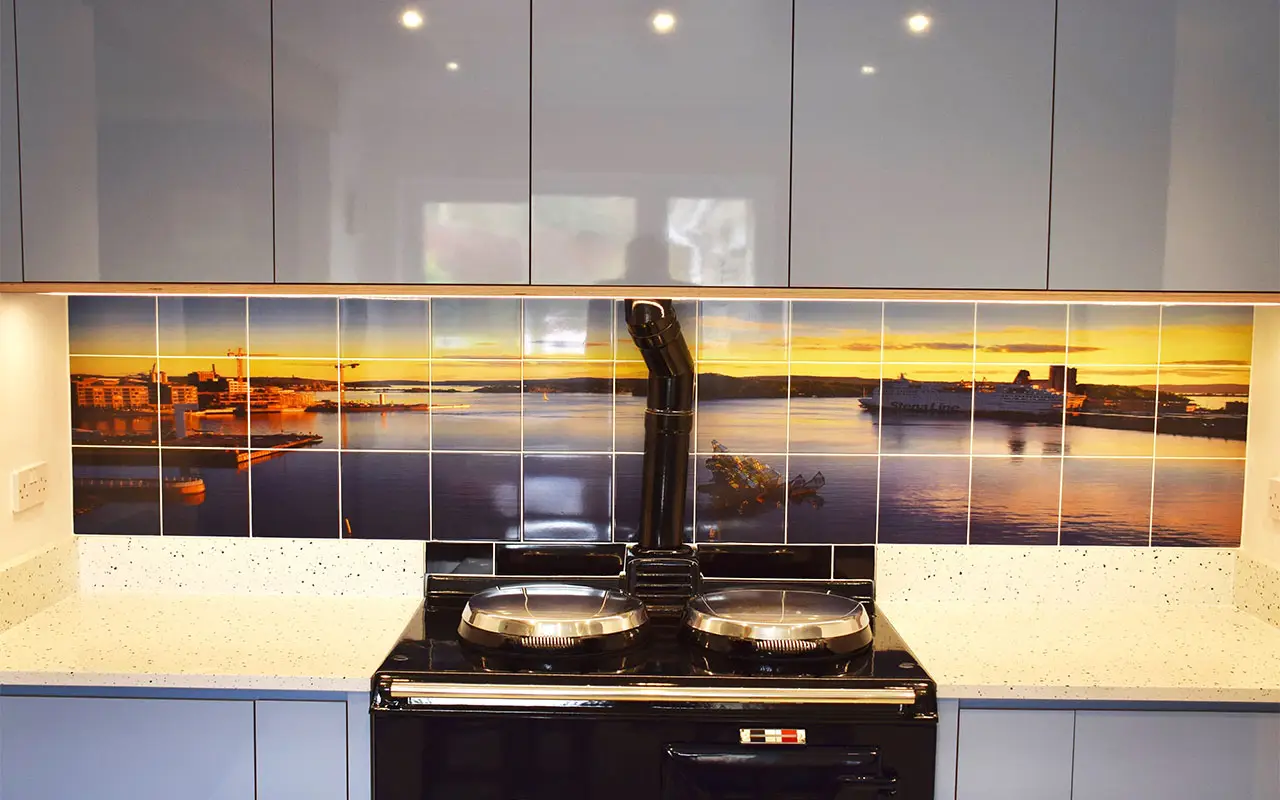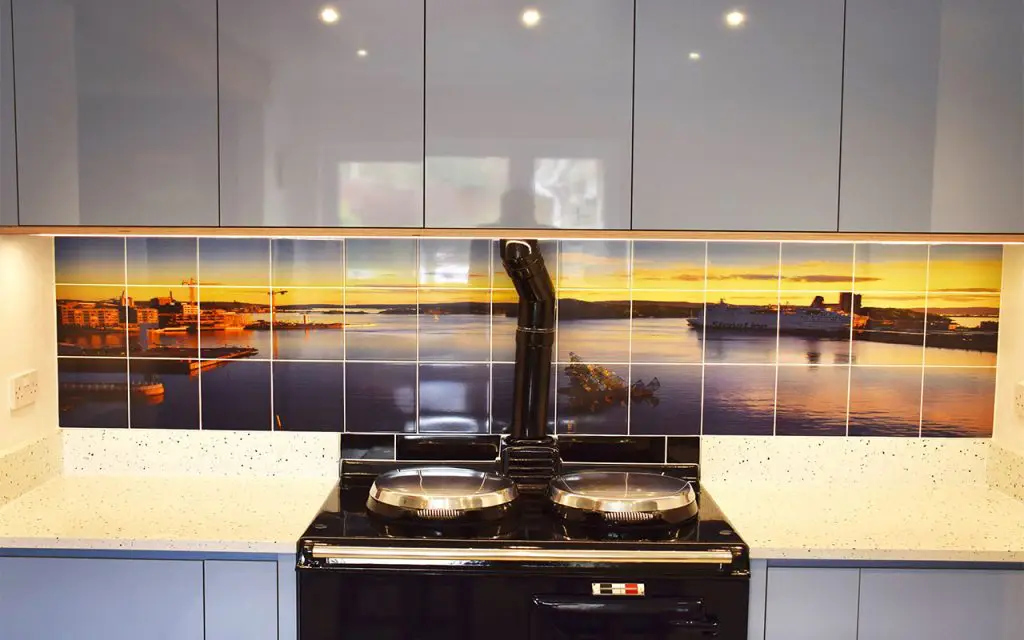 The Importance of Kitchens in Our Homes.
Throughout history, from ancient times to the 21st century, cooking areas and kitchens have been the focal point of home life. Over time, the kitchen maintained its importance in the home but was often separated from the main living areas as a place of heat and soot, with all the messiness of cooking. Kitchens offered no beauty or value to the home.
These days, kitchens have again become the central hub of the home for families, as well as a place to socialise with friends. Due to the importance of kitchens, many people choose to renovate and even build new kitchens for their homes. photo tiles for wall have become a popular choice when it comes to kitchen designs.
Kitchen Photo Tile Design Ideas.
Bespoke kitchen tile designs can be used in all types of kitchens—from traditional and country kitchens to contemporary kitchen designs.
Contemporary kitchens generally feature cutting-edge appliances, concrete countertops and more. The contemporary kitchen offers practicality and simplicity, with functional, sleek appliances and hardware for cabinets and drawers. You won't find the avocado appliances from the 1950s in a contemporary kitchen. Instead, you'll find stylish appliances with sleek designs. Steel, chrome, concrete and natural elements are also part of contemporary kitchen design. Some contemporary kitchens may also include an open floor plan, with the kitchen connected to other spaces, such as the living or dining area.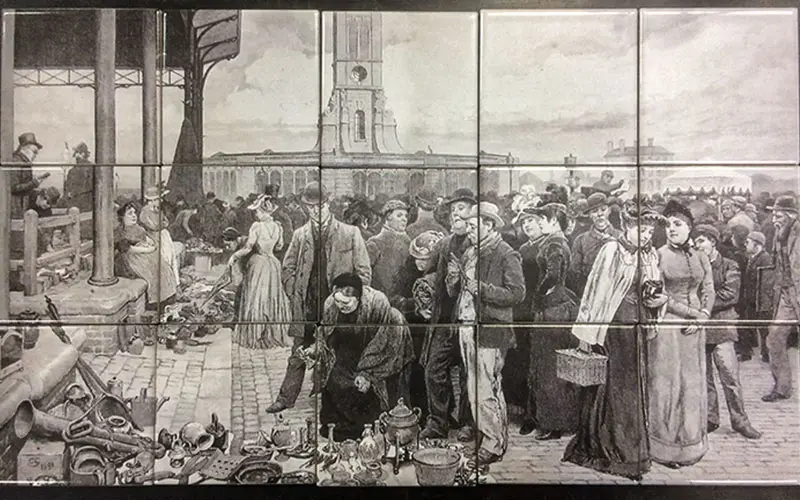 In a country kitchen, you might consider using unique tiles in a low splashback that follows the countertop around the room. The design could be simple—such square tiles are done in colours of brick—both red and tan, alternating with a row of red brick tiles, then a row of tan brick custom tiles, set on edge, to create a border just above the countertop. You could also add a matching decorative tile inset above your stove.
Photo tiles can easily be used in contemporary kitchen designs. Mosaics or tile murals, made from custom tiles, can be used on the wall above the stove or incorporated into a neutral splashback. You might choose to create a personalised mosaic, such as a garden scene, to cover the lower border of the backsplash all around your kitchen. Your design options are limitless when incorporating bespoke tiles into your kitchen's design.
Traditional kitchens feature architectural elements such as mouldings, arches, raised-panel cabinets, and more. Details are of the utmost importance in a traditional kitchen. These kitchens borrow stylistic designs from the past, incorporating them into a more modern design, which makes custom crafted tiles a welcome design element.
Photo tiles in a traditional kitchen might be used on the splashback, an area of the wall located above the countertop and below the upper cabinets. You could easily use an old-world design or floral design for custom tiles—maybe something such as a herringbone design done in neutral shades of beige and tan to match the curtains or flooring, or to contrast with the countertop. The possibilities are unlimited when you work with tiles photo wall.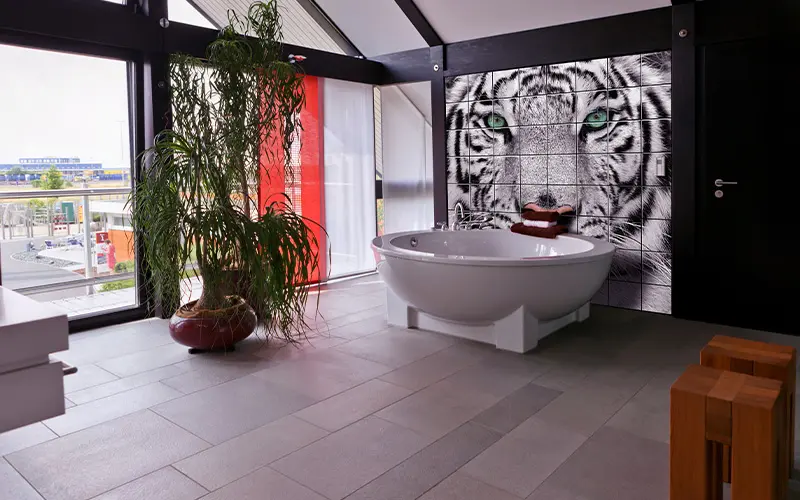 Photo Tiles Bathroom Ideas
With UniqueTiles, your imagination is the only limit to the beautiful bathroom you can create. Here are additional ideas on what you can use to design a personalised bathroom with custom tiles.
With bespoke bathroom tiles, you can use a favourite photo or image to create an artistic touch in your bathroom, no matter what the style. You might choose to use a coloured photo of your favourite fruit or fruits—such as a photo of red and green apples. Or you can bring the ocean or sea into your bathroom by using a beautiful beach and shoreline image.
Don't be afraid to bring a touch of whimsy to your bathroom with unique tiles. You could use images of butterflies, in pastel colours, randomly interspersed on bespoke tiles with a neutral background of white or cream.  Bathroom photo tiles can also be used to create dramatic geometric designs along the bath. At Unique Tiles, we'll work with you to bring your ideas from conception to reality.
We Offers Quality photo Bathroom Tiles
When you work with UniqueTiles, you can be assured that printing photos on ceramic tiles are of the highest quality. Our tiles come with a 50-year warranty; our tiles are durable and stand the test of time.

If you can imagine it, we can bring the bathroom of your dreams from conception to reality with our beautifully crafted decorative tiles.