Victorian Tiles in Contemporary Homes
Is it really possible to have Victorian tiles in your modern penthouse? How does one of the oldest wealth statements in Britain hold up in comparison to today's glossy work tops and LED lit bathrooms?
The Victorian aristocrats were ones for fashion and style. Money played a huge role in society and if you had it, you'd flaunt it. From gentlemen in top hats, to women in satin corsets. Fashion was one way of showing your wealth. So how about your home?
Homes were just as important factors as any with Victorian aristocrats. Those lucky enough to live in mansions and large countryside properties wouldn't miss any detail in their homes, even down to the very last tile.
Victorian tiles were just as much a show of wealth as a freestanding bath on claws or a well looked after garden. Surprisingly, the inspiration behind Victorian tiles dates all the way back to the medieval times. In that era, Gothic architecture was a short lived but very popular style in Britain that has stood the test of time. To this day architects look towards the Gothic style to build churches and other places of worship or community.
During the Victorian era there was a revival in Gothic architecture where the hauntingly beautiful arches, steep roofs and striking towers were a sign of great wealth and power. Many Victorians built their homes and naturally their interiors, according to the medieval style that almost died out a few hundred years before.
The original tiles were far more complicated than their Victorian interpretation. They included intricate patterns depicting flowers and smooth, swirling shapes. The Victorians were known to copy that completely and thus popularised it at homes where previously it was a style reserved for cathedrals.  They also completely reinvented what Gothic interior is today.
So, what caused this resurgence? What or who breathed life and popularity back into these beautiful tiles? The name of one particular man comes to mind; Herbert Minton. His father, Thomas Minton, ran a business called Minton Ceramics that specialised in tiles that catered to the wealthy classes.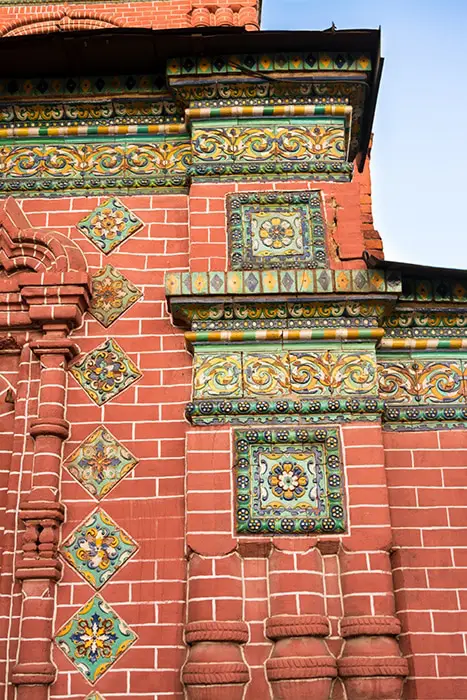 In 1836 Thomas Minton died, so his son Herbert took over the family business and was largely responsible for what was fashionable in Victorian homes. He reinvented the business by introducing new methods of production and using the industrial revolution to his advantage, he managed to reinvent what Gothic tiles were. Most notably he made encaustic tiles which were produced by layering different coloured clay and firing it up. The price tags on these tiles meant they would only show up in the most exclusive and richest households across Britain.
As the cost of production took its toll on the Minton family business, Herbert started working on new tiles, keeping in mind what would be more affordable yet appealing to his clients. This is what is considered the beginning of geometric tiles and ones most associated with Victorian style and architecture. He began by using just one colour clay for the entire tile, rather than using multiple colours at once. This meant, single coloured tiles could be laid together to create geometric shapes without the costly use of different coloured clay. Single colour tiles were more mass production friendly and what better time than the industrial revolution to create something as a mass product.
The initial geometric shapes were simple; black and white checkerboard. This worked great for a few years until the mid-19th century. By that point, geometric and gothic tiles were the staple of wealthy homes and customers started demanding more shapes, patterns, and colours. In other words, they demanded more unique designs to suit their individual tastes. This new demand in home décor came forth at the same time that hygiene education was also of importance and the introduction of bathrooms and toilets into the home posed a great hygiene risk. This gave tiles a whole new reason to exist in people's homes; they were easy to clean and didn't absorb moisture or bacteria.
When the checkerboard style was not enough, single colour tiles were put together to create a look of a large thick border around each tile that would separate them from each other and give a large, bold look on bathroom floors. This contributed greatly to also making small bathrooms look more spacious. The introduction of the use of different shapes, especially triangles, added an interesting touch to Victorian homes. Victorian floors no longer had to have a very dramatic and strict look. Victorian tiles became more varied and more colourful.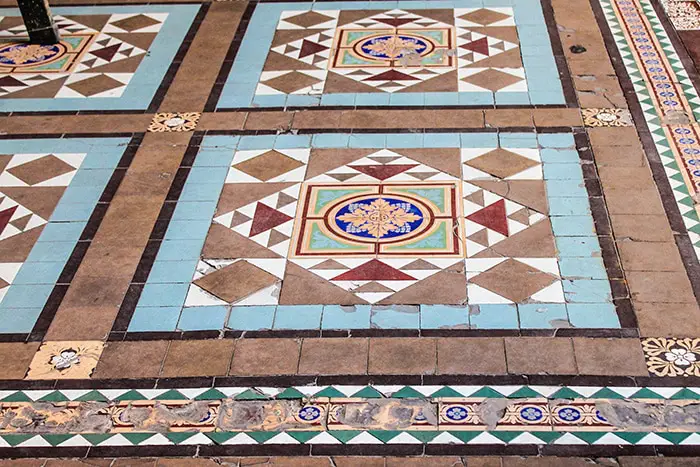 Victorian tiles are now a huge part of British heritage and carry a rich history behind them. Although for a long while they stayed as marks of wealth and were exclusive to the rich, 
the rise of the industrial revolution and growth in wages meant that expensive home décor was no longer reserved for the few.
Manufacturers and keen businessmen started to see a market open up where a fairly easy and quick to manufacture product was becoming popular and in demand so costs of production could be kept low whilst sales would be high.
So how do Victorian tiles work in a modern home? Whilst no one has a mansion like a hallway where they can tile the entire entrance right up to the large staircase, there are many more spaces in our apartments and houses where Victorian tiles can look good and give a nod to British history.
The most important thing to take into consideration when buying Victorian styles is your space and your budget. When Victorian tiles first came into fashion and were redesigned for the 19th-century nobleman, they were designed for large spaces. Thick geometric borders and bold colours would immediately bring attention to the vastness of a Victorian kitchen or bathroom. Whilst large and bright colours may make a small space look bigger, they may not be as impressive and striking as they would be in larger spaces. Budget is another big factor that should be considered when investing in Victorian tiles. For the majority of tiles available on the market today, there is no reason not to go for budget friendly options. That said, Victorian tiles do show their price. Investing in more expensive and better-quality tiles mean you'll get brighter colours and a high gloss or matte finish that will truly do justice to this British classic.
Depending on the type of house or apartment you have, there are different ways that Victorian tiles can be utilised. Traditional Tudor homes look surprisingly good with some Victorian era décor in them. They also tend to have larger spaces with a lot of floor space in the kitchen.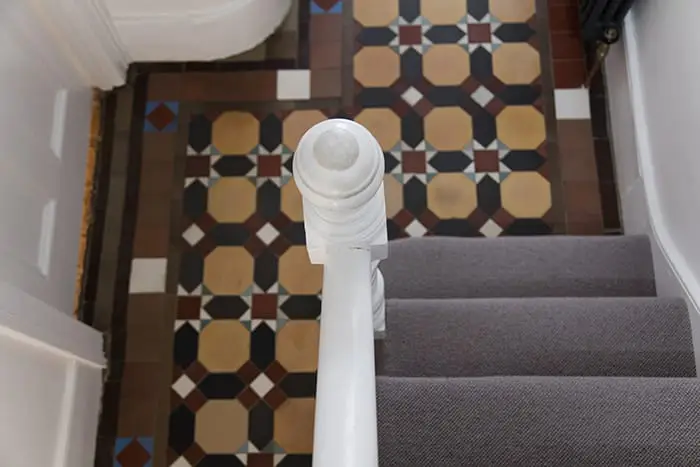 For Tudor homes, it would be your first thought to go with a traditional and original checkerboard look. Whilst that would be a safe and very good-looking option, don't be afraid to throw in other colours or shapes in there too. Cream, vintage greens and blues can also create a historic looking British styled kitchen or bathroom without looking like a club dancefloor.
A typical British home with an upstairs, downstairs and two or three bedrooms is on average quite small. Bathrooms also tend to be more like long corridors rather than square spaces. So apart from a tiled floor, Victorian wall tiles can also work as bath tiles. The functionality of easy to clean tiles that protect the wall from damp, paired with splashes of vivid colour on top of white make for a very modern twist on a timeless classic.
Typically, the thick borders at the edge of each tile would have been a dark navy or deep, ruby red. This was mostly down to Victorians choosing the most expensive clay colours. As manufacturing processes have changed over the years, there is no longer a difference in price with colouring, so go for whatever fits with the rest of your home.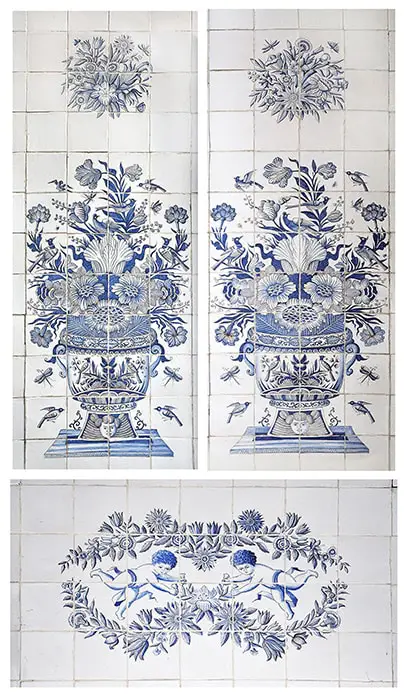 Apartments tend to be the most difficult to style traditionally but that doesn't mean it can't be done. The main issue lies with built. Older apartments tend to be very small and lack any characters without undergoing major refurbishments. This means they neither compliment the traditional Victorian style tiles nor do they match their modern counterparts. Yet with the right work done to the apartment and minimalistic designs, Victorian wall tiles can be just the right fit to spice up small bathroom floors or spaces over the kitchen worktops.
Modern apartments and penthouses, on the other hand, tend to be very futuristic. With gloss kitchens, LED lights and mirrored surfaces, Victorian wall tiles seem to have no place in such apartments. The best we can suggest is looking at what can be done to modern shower cabins. A lot of penthouses and apartments go for a striking black gloss tile with a white gloss furniture look. This would be the perfect space to slide in some geometric gloss Victorian floor tiles in white, red or black. The key is to keep them gloss as they will complement the lighting.
As Britain attracts people from all over the world, it has also attracted European architecture. So how do homes, built to the style of the Scandinavians or the French, house a set of Victorian wall tiles? Surprisingly quite well. A lot of European architecture concentrates on moving forward whilst not forgetting its routes. High end appliances and accessories are finely fitted into traditional and countryside looking spaces. Now in this century, that is probably the best type of home to put your own British heritage in to.
European homes also put pressure on us to be economic and are designed in a minimalistic way that inspires us to create space and think carefully about how any materialistic things we own.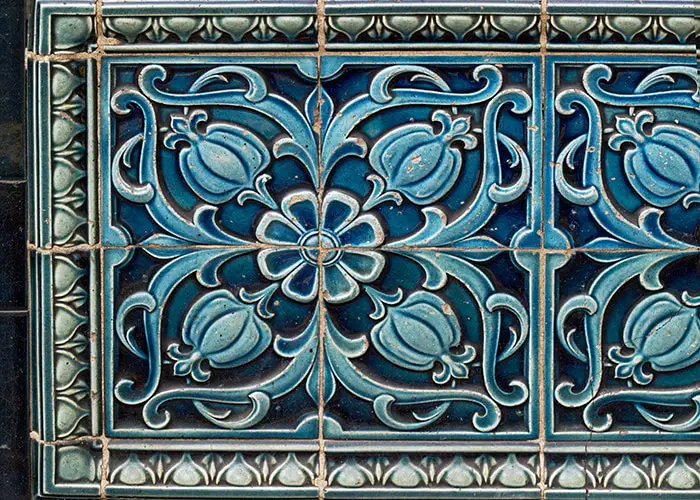 With that in mind and with all the new space available to you, you can look further into the way Victorians would use tiles to decorate large ballrooms and conference rooms. Whilst not many people can say they own a space large enough to be a ballroom or conference room, they can be looked to for some 19th-century inspiration. And they're also full of geometric and striking shapes.
Or maybe rewinding the clock even further is more your style? The original Gothic revival look features a lot of floral and herbal accents which perfectly complement a traditional European kitchen where the culinary practice is well and truly reflected in the tiles of the kitchen. Also, everybody knows that cleaning grease from ceramic is a far easier task than trying to clean it straight from a painted wall or wallpaper.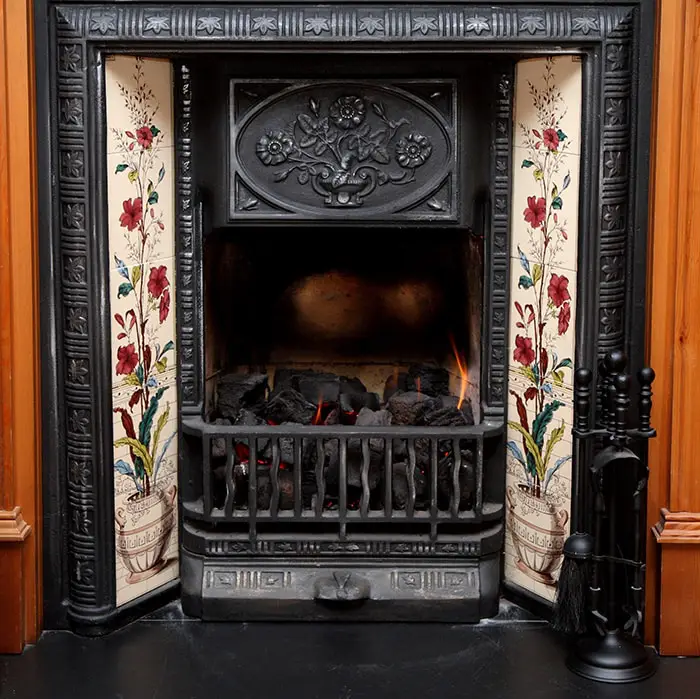 Modern practicality and affordability coupled with Victorian minimalistic looks will always be a timeless classic that can be shaped and re-shaped for any home. Not many styles of tiles can be as versatile as Victorian wall tiles.
 Even mosaics and image tiles have their limitations and can easily look bad when not used correctly. Victorian wall tiles on the other hand simply look good anywhere in any space.
Victorian tiles are a true mark of pride and patriotism in the vast and varied history of Britain and their popularity in homes across the globe just shows how this classic is not even close to dying out. It will simply be reinvented and reimagined over and over again.
We personally boast a range to suit any and all homes across Britain, and our years of experience means you get a professional fit and finish in hard to reach places. We do not cut corners or use cheap materials to set your Victorian tiles in place.
As a customer, we value your opinion and truly want you to be happy with our work. We can even work with you to look at your own custom-made tiles to make your home incredibly unique and impress any guest that walks through the door.